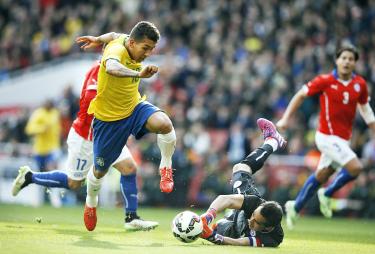 Brazil's Roberto Firmino, left, takes the ball past Chile's Claudio Bravo, bottom, to score in their international friendly at the Emirates Stadium in London on Sunday.
Photo: AFP
Dunga says Brazil's renaissance under his leadership has been sparked by the players' burning desire to make amends for their nation's FIFA World Cup humiliation.
Dunga's side secured their eighth successive victory since last year's World Cup as Roberto Firmino came off the bench to seal a 1-0 win over south American rivals Chile in a feisty friendly at Arsenal's Emirates Stadium in London on Sunday.
He refuses to accept plaudits for Brazil's revival over the past eight months and insists it is the positive attitude of his players, many of whom did not feature in the Germany massacre, that has been the catalyst for the quick turnaround.
"I'm happy with the players and with how they are dealing with everything after the World Cup. They are working very hard," Dunga said.
"They know the responsibility they have when they play with the national team. They are determined to change what happened in the past. At the moment they are still learning my methods, but as they play with each other more and more that will disappear and they will start to gel," he added.
Although Brazil's winning streak has been a major boost, Dunga knows they need success on an international stage before they can completely banish the bitter memories of the Germany meltdown.
The first opportunity comes in June when Brazil travel to Chile for the Copa America, a competition that Dunga regards as a big test of his team's progress.
"Yes, it will definitely be very difficult," he said. "The South American teams are a lot stronger because there are a lot of players in Europe now and that makes the competition tougher than ever. This was the last chance before the Copa America to try out some players. The risk was worth it to see how they work with my methods."
Dunga refused to criticize referee Martin Atkinson, who failed to send off Chile midfielder Gary Medel for a stamp on Brazil captain Neymar.
"That is a decision the referee must make. There are a lot of cameras covering everything, so you just need to play football. The players were very much protected [by the referee]," he said.
Instead, he focused on the performance of TSG 1899 Hoffenheim attacking midfielder Firmino, who staked his claim for a Copa America starting place with a dynamic second-half cameo capped by his 72nd minute winner.
"We have analyzed him for a very long time," Dunga said. "He's been eased into the team slowly. He can score goals, but there is still a lot of time to decide the Copa America line-up."
In Sunday's other international friendlies, Mexico edged past Ecuador 1-0, while France were 2-0 victors over opponents Denmark.

This story has been viewed 322 times.